ATAMAN HOTEL & RESTAURANT - CAPPADOCIA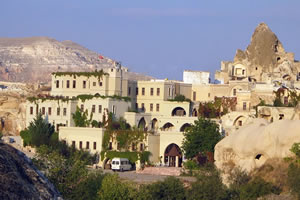 The Ataman Hotel began its life 200 years ago as a house carved into the rock in the historical tradition of Cappadocia. It was extended into a large house and estate during the 1950s. In 1985 the property was acquired by the Ataman family, restored and converted into a beautiful hotel and restaurant.
The hotel is within walking distance of the centre of the village of Goreme, in the heart of Cappadocia. It is situated in the Uzun Dere Valley, where the road from the village becomes the walking trail through Pigeon Valley. The hotel has an uninterrupted view across the valley, is surrounded by 'Fairy Chimneys' and near to several early Christian rock churches.
Each room is unique and beautifully decorated in traditional Turkish style but incorporates a modern bathroom. The rooms are spacious and are available for anyone from singles to large families.
The Ataman Hotel has a research library with books in several languages about Cappadocia and all aspects of life in Turkey from pre-historic times right up to the present. There is a cave bar, restaurant and extensive terraces.
The price includes buffet breakfast, four-course dinner from an extensive international menu as well as self-service hot and cold drinks in the room.
You can make reservations from our site..
| | |
| --- | --- |
| Our Address | Ataman Hotel 50180 Göreme / Nevşehir - TURKEY |
| Tel | +90 384- 271 23 10 (3 lines) |
| Fax | +90 384- 271 23 13 |
| E-mail | info@atamanhotel.com |
You can also see the flight maps to Turkey and Göreme and the location map of Ataman Hotel.