THOMAS ALLOM'S ISTANBUL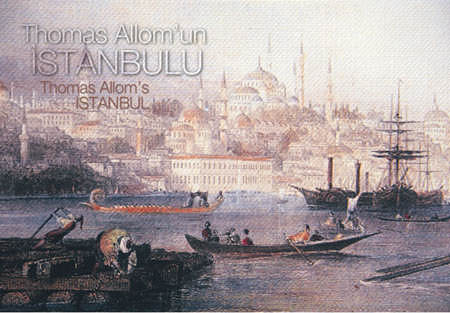 Istanbul is a city steeped in the history of ages, with a myriad stories to tell. Travellers to the city in Ottoman times were captivated by its silhouette of domes and slender minarets against the reddening sky as the sun sank into the Marmara Sea. Poets, unrequited lovers, those at odds with their own country, and those in search of adventure were drawn here. They smoked water pipes with firemen in coffee houses on the Golden Horn, wandered through the Hippodrome, took rowing boats along the Bosphorus, breathed in the seaweed scented sea air from Çamlıca Hill, drank ice cold water from a fountain in Mahmut Paşa, and explored the colourful labyrinthine streets of the Covered Bazaar.
This golden city, gateway to east and west, where thousands of years of history could be glimpsed through the mists of time, attracted people from far and wide into its irresistible web of mystery. Among them were many who sought to depict and describe this city they came to love, so that they and their companions would never forget it, and to show others what they had seen. Armed with pens, pencils, notepads and sketch books they explored every corner of Istanbul, alias Constantinople. They drew, painted, and described whatever they saw, leaving behind a record of the city of unsurpassed detail in art and literature.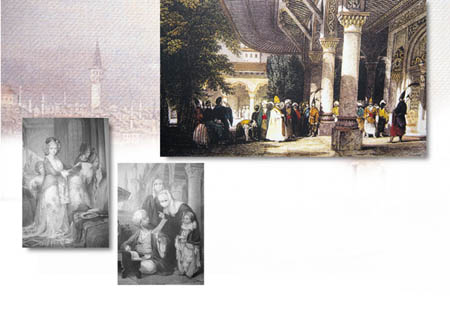 One of the most famous artists who recorded Istanbul's evocative scenes in his engravings was the Englishman Thomas Allom. He was an architect by profession, but it is for his engravings of Istanbul that he is best remembered today. As a young man, inspired by the Orientalist movement of his time, he came to this mysterious city and was carried away by the magical atmosphere of the East. His engravings depict every part of the city, from Yeniköy on the Bosphorus to the fortress of Yedikule, and are today invaluable documentary records of Istanbul in the 1830s.
Allom was born in London in 1804 and studied at the Royal Academy. His designs for churches shown at exhibitions in 1824 and 1827 aroused considerable interest in this young man who showed such promise as an architect so early in his career. But Allom's longing to travel and depict what he saw were to lead him in another direction, to become an artist with the analytical eye of an architect. First he travelled and sketched his way around England, and then went to Scotland. Next he travelled to France and Belgium, where again he produced a series of beautiful landscapes. The flame of his desire to travel continued to burn unceasingly, and carried him this time to the distant land of China on the other side of the world.
After returning, Allom remained for a while in England, but then set out on his travels again, this time to Istanbul, which he had long dreamed of visiting, and from there to the Holy Land. In 1834, at the age of 30, he arrived in Istanbul, and until 1836 travelled through Anatolia, Syria and Palestine, producing hundreds of lovely drawings. Shelving his ambitions as an architect for the time being, he became one of the most renowned Orientalist artists of his time.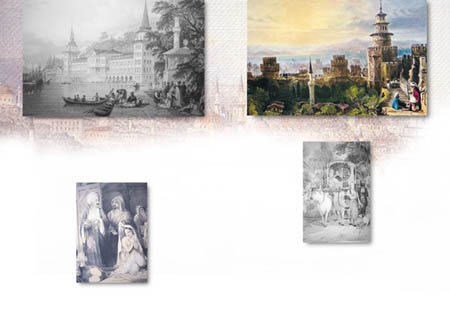 During his stay in Istanbul, Thomas Allom was warmly received by the British ambassador Lord Strangford. Accompanied by the Reverend Robert Walsh, chaplain to the embassy and a knowledgeable scholar of Turkey's ancient and modern history, Allom explored the city. His picturesque engravings provide a rich array of detailed information about the architectural texture of Istanbul at that time and the daily life of its inhabitants. He drew scenes of the Bosphorus and Golden Horn, the city's cemeteries, Sultanahmet Square and its environs, churches and sacred springs, the city walls, coffee houses, and Turkish baths. In his engravings we see many buildings which have not survived to the present day, or have come down to us in altered form.
Many of the lovely waterfront houses on the Bosphorus depicted in Allom's engravings have now been replaced by tall concrete blocks. In Allom's time Kızkulesi (Maiden's Tower) on an islet at the mouth of the Bosphorus was a wooden structure, and off Ahırkapı there were net fisheries. No trace remains today of Esirci Han (Khan of the Slave Traders) in the Slave Market in Nuruosmaniye.
From Istanbul Thomas Allom travelled to Bursa, and from there southwards through the Aegean region to Manisa, Pergamum, Ephesus and Pamukkale. He then turned eastwards and travelled through Syria and finally to Palestine.
In 1838 'Constantinople and the Scenery of the Seven Churches of Asia Minor' was published in two volumes, written by Robert Walsh and illustrated by Thomas Allom. Subsequently this book was translated into French and published in three volumes by Leon Gallibert and Clement Pelle in Paris. Emily Reeve's 'Character and Costume in Turkey and Italy', published in London in 1840, was also illustrated with engravings by Thomas Allom.
Thomas Allom did eventually become a successful architect as well as artist. He executed a series of paintings for the chateau of King Louis Philippe in Dreux, designed the Church of Christ in Highburg in 1850, and the Church of St Peter in Notting Hill in 1856. He won first prize in a competition held in Oxford for a conservatory which he designed and built. Allom was also one of the founders of the Institute of British Architects.
Thomas Allom died in Barnes on 21 August 1872, never to be forgotten as one of the artists whose name has been inscribed in golden letters in the history of Istanbul. Generation after generation have marvelled at his engravings, which so faithfully record the Istanbul of his time.