Skiing in Turkey
Researches working near the Arctic Circle in Norway have been astounded by two human figures on skis carved in a rock face. The carvings date from 2000 BC., confirming the dating of skis found in Swedish and Finnish marshes at 4000-5000 years old.
For thousands of years a means of travel in snowbound northern climes, the first skiing contests were held in the 1850s. However, in the rural areas of Scandinavia and Eastern Europe where skiing originated this still remains a practical way of getting about in winter, which is the inspiration for competition cross-country skiing.
Skiing became a popular sport throughout Europe and North America in the 20th century, spreading to Australia and New Zealand in the 1930s, to Chile and Argentina in the 1940s, and to Japan in the 1950s. Today every country in the world where the conditions are right has its skiing enthusiasts.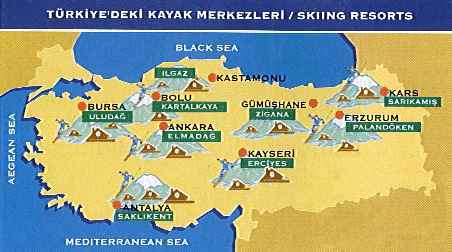 Turkey is one of the latecomers to skiing, but the sport has become immensely popular. Ski resorts burst at the seams at weekends, and especially over new year and the two week school holiday in February. An increasing number of people who are hooked on skiing head for the nearest ski slopes at every opportunity. The number of ski resorts has multiplied rapidly over recent years in response to demand. Uludağ near Bursa in northwest Turkey is the oldest and most famous of the country's ski resorts, with snow cover for an average 178 days a year between December and May. The 11 ski slopes at 2000-2500 metres are situated within easy reach of Istanbul, so demand for accommodation on Uludağ continues to rise despite the increasing number of alternative resorts around the country. A second resort planned on the mountain will offer a further 4150 beds in the future. In addition to the present 15 hotels there are 12 holiday camps belonging to various public sector institutions. The seven ski lifts and seven chair lifts have on hourly capacity of approximately 10.000 people. The longest piste at Uludağ is 2 kilometres in length. Numerous cafes, bars and discotheques open 24 hours a day during the season lend Uludağ the added attraction of a lively apres-ski life. The resort's five-star hotels also offer alternative sports activities in the form of swimming pools, skating rinks and gymnasiums.
Source:
By Nedim Erinç
SKYLIFE 01/96
Winter Wonderland "Kartalkaya"
Past Bolu we turned onto the road to Kartalkaya. The white covering became quickly deeper as we climbed, but I only realised that the car chains hung up outside the small stalls on the road two kilometres back would be a a good idea after all when the car began to skid. I decided to turn back. The chains were for rent, and the stall owners also offered to put them on and take them off. I was duely grateful for such a service in this wild spot, and the villagers, who clearly had considerable experience of city folk getting themselves into a plight, could not help smiling behind their
moustaches. With their help the chains were secured and I set out again. Now the car had no problem getting up the snow-clad road, and I soon arrived at the ski resort.Here the snow was even deeper and the landscape even whiter. The grey smoky city seemed far away now, and I was in a new world, brilliantly fresh and beautiful. The air and view outside prevented me from resting in the hotel, despite my tiredness, and I headed for the peak straight away.Kartalkaya is a winter sports centre midway between Istanbul and Ankara, and just a three-hour drive from each city. With its spectacular scenery and long ski runs, it has become an increasingly popular winterresort over recent years. It is situated at an altitude of 2000 metres in the Köroğlu Mountains and is reached via a road which turns off from the main Ankara-Istanbul highway 10 kilometres east of Bolu. Those who take a coach to Bolu can get to Kartalkaya by the shuttle services provided by the resort hotels.Kartal Hotel has two ski runs 15 kilometres in length, served by two chair lifts and five ski lifts. Café Kartal and Tepe Café are used by both skiers and walkers to rest over warm drinks, and the hotel offers a wide range of indoor recreations, including a swimming pool, sauna, ten-pin bowling, disco, video room, and billiards. Dorukkaya Hotel has six ski runs 6 km in length and six ski lifts. There are also a further five public ski lifts, and all the lifts are free for hotel customers. This hotel has a swimming pool, gymnasium, and discotheque, and offers helicopter rides over the mountains and motorised sleigh rides.For those who want to see more of the vicinity than the resort itself, the first place that comes to mind is the mountain pasture of Sarıalan Yayla 8 kilometres away. Scattered over the great whiteexpanse of the yayla are groups of wooden mountain huts used in summer by the local villagers. Here you can enjoy walking for hours, the crunching of your footsteps in the snow and your own breathing the only sounds breaking the profound silence. As you walk you rediscover the self which had been alienated in the mechanised rush of city life.But to return to my first day at Kartalkaya. Like everyone else, I had decided to start by climbing to the summit. Putting a few necessities in my backpack, I headed off towards the virgin snowy slopes above the resort. People ofevery age were skiing, including large numbers of children taking lessons. The luckiest of all, in my view, was a small child enjoying the pleasure of skiing at such a tender age on its mother's back. Chatting with other non-skiers I carried on, and at the top took a break in Tepe Café, where for the first time I could drink in the magnificent panorama of this winter wonderland.I then walked on over the ridge to the southern slope of the mountain, and here was surprised by a view so enchanting that I could have gazed at it for hours. The only danger is forgetting the time. Darkness falls early in the winter months, and to get back in the last light and avoid freezing temperatures I set off immediately. It had been easier climbing up, and although several tumbles had their entertaining side, I also got wet and chilly. Back at the hotel my numb feet were grateful for the warmth, and some hot drinks got my circulation going again. Although I went to bed thinking that I would give walking a miss on the morrow, I awoke after a deep and refreshing sleep with far more energy than I had had the previous day.The winter season at Kartalkaya begins in December and continues through to mid-April. For both winter sports enthusiasts and those who just enjoy walking in beautiful surroundings, Kartalkaya is perfect. Here is nature at its wildest, combined with all the comforts of civilisation. When I returned to my humdrum daily life I found that my short winter break had left me with a new zest for life, even in the grey smoky city.

* Text and photos Erdal Yazıcı
* Erdal Yazıcı is a photographer


If you are already a competent skier and want to ski until late May, then Palandöken in Turkey's eastern province of Erzurum is the place for you. A resort which is top of the list for experienced and professional skiers, Palandöken figures on the international circuit. Conditions here are suitable for winter sports into June, and at 7 kilometres Palandöken has Turkey's longest piste. Total ski slope length is 30 kilometres, situated between 2200 and 3176 metres. There are two chair lifts in the ski area and Dedeman Hotel has a ski lift. Palandöken is just a 5 minute drive from Erzurum and 15 minutes from the airport, a convenience matched by none of Turkey's other winter sports centres. Dedeman Palandöken Ski Resort has enlarged its capacity with additional buildings this year, and its facilities include an indoor swimming pool, fitness salon, games room and children's club.
An unforgettable mountain ERCİYES
Feeling the cold snow beneath my feet, it was hard to believe that Erciyes was once an active volcano. The streams of redhot lava which poured from its crater over the ages formed the soft tuff rock which wind and rain then sculpted into the surrealistic cones of Cappadocia. Coins discovered in excavations of the ancient city of Mazaka at its foot depict flames emerging from its summit. The view of Erciyes from Tekir will be inscribed so deeply in your memory that you will immediately recognise it if you see it again in a film or photograph. Erciyes is a mountain that can never be confused with any
other. Erciyes ski resort is located on the alpine pasture of Tekir 30 km from Kayseri Airport and 25 km from the city centre. The Develi road which leads here is kept open by snow clearing teams who wage a constant battle. If you drive here, remember that chains are obligatory.
There is only one hotel on Erciyes, and two ski hostels, one belonging to the Department of Physical Education and the other to the State Water Authority.Erciyes Dedeman Hotel is one of a chain which built some of the first hotels at several Turkish ski resorts. It has 60 rooms, an indoor swimming pool and sauna. You can hire skiing equipment from the hotel, and take lessons from its team of professional instructors. There are also other places to hire skiing equipment in the area, and shops where it can be purchased in Kayseri. Many of those who ski on Erciyes come for the day from this city. Erciyes has several ski slopes suited to skiers of all levels,
from beginners through to advanced. The longest slope is 3.5 kilometres, and the total length of all the slopes at the resort is 12 kilometres. There are five ski lifts. Zümrüt 1 is a 1530 metres long chair lift, and Zümrüt 2 is the longest in the region at 1570 metres. The 1500 metre First Lift is the t-bar type, and leads to the Second Lift which takes you a further 1400 metres. At the end points of both the First Lift and Second Lift are cafés where you can warm up with hot drinks and get snacks. The 200 metre Dedeman Lift takes you to the top of the beginners' slope. Erciyes was first climbed by W.J. Hamilton in 1837, and is still popular with both Turkish and foreign mountaineers.

The 3917 metre summit is permanently under snow. Mountaineers begin climbing at Tekir and after passing the first and second stations camp at 2800 metres. From here they continue to the summit, passing through Şeytan Boğazı (the Devil's Pass) where the towering Hörgüç Rock comes into sight. The next stop is the summit, where in fine weather there is a spectacular view across Cappadocia as far as the Toros range to the south. This view makes all the exhaustion of the climb worthwhile. If
you have time, spend a day visiting Kayseri. The city's most famous sights are Kayseri Castle, Honat Hatun Mosque and complex, the Archaeological Museum and Keykubatiye Palace.


Kültepe (the ancient Huand), a tumulus 22 kilometres from the city, is a remarkable archaeological site where large numbers of clay tablets have been discovered which throw light on the life of the Assyrians who established a trading colony here.
Sultan Sazlığı Marshes is a famous beauty spot and bird sanctuary, home to many species of birds, particularly in spring and autumn when migrant species halt here in large numbers.The skiing season at Erciyes begins in November and continues through to May. When you leave, you will see the mountain watching you go every time you turn to look back. This elderly volcano which has seen so many people arrive and depart over the millennia will live on in your memory when you reach home.

* Yuksel Altintop is a photographer.

Sarıkamış in Turkey's northeastern province of Kars is renowned for its snow quality. There are two ski resorts here between 2000 and 2900 metres. Osman Yüce has a 1.3 kilometre ski slope and a ski chalet with 145 beds. There is also a hotel within easy reach. Sarıçam ski resort has a 7 kilometre piste but no accommodation. The two resorts are 3 kilometres apart, have two ski lifts, and a skiing season lasting from mid-December to early May. Erzurum is the nearest airport 150 kilometres away. Both resorts are set amidst Scots pine forest.

The thickly forested Ilgaz Mountains still lag behind other areas where skiing facilities are concerned. The Ilgaz Dağı ski resort in Kastamonu has one 500 metre piste, one double chair lift and one ski lift. The Ministry of Forestry and Rural Services Department have their own guest houses here, and there is one hotel open to the general public. As weather conditions can be variable skiers are advised to check whether there is sufficient snow before setting out. The piste is appropriate for intermediate and advanced skiers.
If your idea of the perfect winter holiday is to ski in the morning and swim in the sea in the afternoon, then Saklıkent in the Beydağları Mountains in Antalya on Turkey's Mediterranean coast is the place to go. A drive of around one and a half hours takes you from the icy peaks to sunny beaches. Small hotels and pensions have a total bed capacity of only 52. The longest ski slope is 1800 metres, and total slope length is 2050 metres at over 2000 metres in altitude. There are two ski lifts. Due to the resort's close proximity to the Mediterranean, the skiing season is short and variable, running on average from December through to March.

Turkey's Black Sea coast is another alternative for winter sports enthusiasts. Here the place to ski is Zigana in the northeast province of Gümüşhane, with a total piste length of 1.3 kilometres and the longest piste of 1 kilometre. Located east of the Zigana Pass close to the highway, the resort has one ski lift and one baby-lift. At present there is no accommodation apart from the ski chalet run by the Department of Youth and Sport, but extensive development is planned for Zigana, which has one of the longest skiing seasons in Turkey, lasting from November to May.

Elmadağ is 23 kilometres from Ankara, and most of the capital's students get their first skiing experience at university run ski chalets here. There is one hotel, one ski lift and piste of 600 metres. Elmadağ's skiing season is from January to March.

Turkey's mountains have many other potential winter sports areas where facilities are planned under the Winter Sports and Ski Resorts Project drawn up jointly by the Ministry of Tourism and the State Planning Organisation. Meanwhile, take your pick of the wide range available at present, find a pair of skis to suit your foot and weight, and off to the snowy heights!
Source:

By Nedim Erinç
SKYLIFE 01/96