FAUSTO ZONARO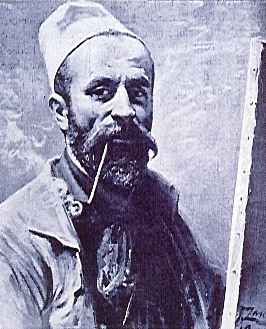 Italian painters played a major role in the development of painting in Turkey. When the Academy of Fine Arts was established in the 19th century, four of the five foreign professors brought from Europe were Italian. The first was Leonardo de Mango, who founded the oil painting department. The second was the famous artist Salvador Valeri, professor of pastel and charcoal drawing, followed by Philip le Bello, an authority on watercolor, and finally by Ecvaroni. All appointments were on the orders of sultan.
The tradition continued, and several years later, another accomplished young Italian painter, Fausto Zonaro, was appointed painter to the imperial palace. Many of his paintings are still in the palace collection and private collections in Turkey today. Zonaro was celebrated for his vivid Istanbul scenes, in which he skillfully captured the people of diverse occupations and nationalities who filled the streets of this cosmopolitan city. His landscapes of the Bosphorus, and depictions of historic events are also among Zonaro's well known works, and he won renown for his portraits, which are diffused with light.
Fausto Zonaro was born in Padua on 18 September 1854. He began painting as a child, and was first in the class throughout his primary and secondary education. He achieved the same success at Verona Academy of Fine Arts, and after completing his military service went on to study at the Faculty of Fine Arts in Rome. His first exhibition opened in 1885, was well received, and in 1888 a new exhibition of his work was held in Paris.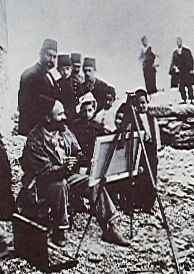 He worked as both painter and decorator in Venice and Naples over the next two years, receiving commissions from the nobility. He was also awarded a knighthood by the king.
Books about the Orient he had read since his childhood aroused his curiosity, and drew him to Istanbul. He arrived in the city, which he described as heaven on earth, in 1891, and made up his mind to stay. His first paintings of Istanbul quickly won him renown in his adopted home. Every day he spent sketching and painting in different parts of a city celebrated for its haunting views.
Around that time, the news that the Turkish warship Ertuğrul was to sail to Japan sent a wave of excitement through Istanbul, and the ship left Galata to an exuberant send-off, unaware that it would be swallowed by stormy waves on the return journey. Her officers standing on deck in dazzling dress uniform, the Ertuğrul set sail as a band played on the quayside and the crowds cheered.
Zonaro was greatly moved by this scene, which he painted and presented as a gift to Sultan Abdülhamid. The sultan was so impressed that he appointed Zonaro court painter with the title of Painter to His Majesty the Sultan, and presented him with an imperial decoration. Replacing his hat with a fez, Zonaro embarked on an illustrious career. For a while he gave lessons at his studio on Akaretlar Street in Beşiktaş to Mihri Hanım and Celile Hanım, two of the first Turkish women painters. He also taught Abdülmecid Efendi, son of Sultan Abdülaziz, who was to serve briefly as caliph following the dissolution of the Ottoman monarchy, and became an accomplished painter.
Sultan Abdülhamid was a dedicated patron of the arts, and would frequently invite foreign theatre companies and musicians who came to Istanbul to perform at the palace theatre. Meanwhile, he commissioned Zonaro to paint a number of historical scenes, including the Turkish-Greek War, the triumphal entry of Sultan Mehmet the Conqueror into Istanbul, and the Battle of Preveze. Although late in his reign Abdülhamid decided to appoint Zonaro to the rank of Paşa, he was deposed before the appointment could be made. This is why Zonaro is referred to as Zonaro Paşa in some foreign sources.
Fausto Zonaro painted for the Turkish palaces for 20 years, and left behind an irreplaceable record on canvas of Istanbul and the Bosphorus, as well as many historical scenes. A large number of these paintings still hang in Dolmabahçe and other national palaces.
Zonaro painted street scenes, mosques, fountains, baths, weddings, religious festivals, street sellers, scribes, firemen, water vendors, fishermen and all the other sights of old Istanbul, depicting the era in his animated style and glowing colours.
Zonaro was one of those who made a major contribution to the development of western style art in Turkey. His eventual departure, however, brought an ignominious and hurtful end to his long stay in Turkey. When the Italians attacked Tripoli, then part of the Ottoman Empire, in 1911, Turkey was outraged by this violation of its sovereignty, and as a gesture of protest ordered all Italians to leave the country. No exceptions were made, and among them were Prof. De Mango of the Academy of Fine Arts, and court painter Fausto Zonaro. This event deprived Zonaro of paşa's rank for the second time. The appointment had been imminent, and Zonaro was preparing for a large exhibition to celebrate the occasion. He was given just three days to leave the country, and in this time hurriedly sold off around three hundred of his paintings - which filled his studio in Beşiktaş – for a fraction of their real value. He left grieving for the land which had become his home.
Back in Italy he chose to settle in San Remo, hoping that the sea would assuage his yearning for Istanbul . Here, despite an increasing dependence on alcohol, he continued to paint landscapes of the Bosphorus on the one hand, and on the other a series of panels depicting bohemian scenes. He died in San Remo on 19 July 1929. The epitaph on his tombstone records that he was painter to the Ottoman court and is surmounted by the sultan's monogram. In 1977, around three hundred of his paintings owned by members of his family were shown at an exhibition in Florence which received wide acclaim in the art world. Nearly two thirds works depicted scenes in Turkey, the country which had been his source of inspiration.
Source:

Palace Painter Fausto Zonaro
By Taha Toros
SKYLIFE 12/94