The Aladağlar Mountains
The Aladağlar Mountains are part of the Taurus range. They cover about 1000 square kilometres of the area between Kayseri, Niğde and Adana. The mountains are comparable to the Dolomites, are formed from limestone and provide a variety of terrain for activities from mountain walking to grade IV climbs (U.I.A.A. grades).
The routes and climbs are documented to a limited extent and are mainly suitable for summer conditions. As large parts of the region are uninhabited and little is available locally in terms of support and supplies, it is strongly recommended that a guide is employed.
Aladağlar can be divided into four areas: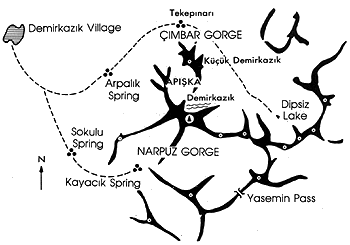 North of Demirkazık
This area contains many peaks including Demirkazık (3765m.) and Küçük Demirkazık (3400m.) and is very wild and rarely visited despite its easy access from the west. Mules can follow some of the routes thus relieving travellers of their loads and allowing them to appreciate the startling scenery.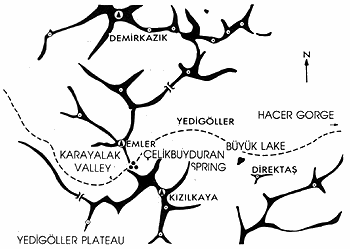 Yedigöller (Seven Lakes) Plateau
The average altitude here is about 3100m.. Four summits are available for those wishing to climb but this is also fine walking country. In July, when there may still be snow on the ground mingling with the spring flowers, and the blue skies are reflected in the lakes, the views are particularly spectacular.
Camping can be a challenge, with hot days, cold nights and sometimes water shortages.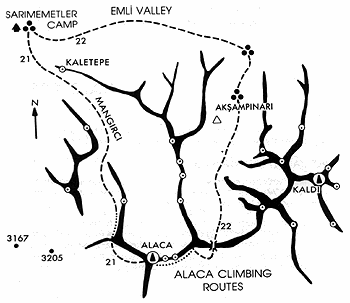 Emli Valley
This is a deep, forested valley. Nomads camp around two of the main water sources in the spring and summer months. A third water supply serves a rudimentary camp site which is well placed to form a base for climbing excursions into the surrounding peaks. There is a road almost to the entrance of the valley passable by normal vehicles between May and November.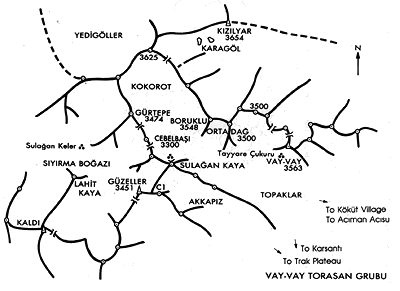 Vay-Vay-Torasan
This is the least known part of the area and the most difficult to approach. It contains many peaks over 3500m. which feature 'chimneys' - some without exits - to enliven the climb.
Source:

Aladağlar - An Introduction
by Haldun Aydıngün
Redhouse